Quick Links
About Us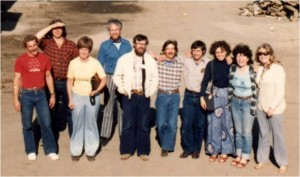 Ridge Meadows Recycling Society (RMRS) has come a long way from its humble beginnings in 1972 as a volunteer group collecting newspapers in a backyard shed. As the recycling movement grew, the society remained a leader, paving the way for green initiatives and partnerships. RMRS now works in partnership with the District of Maple Ridge, providing recycling and blue box pickup to local residents, schools, and businesses, running a one-stop drop-off recycling depot and processing facility, and providing environmental education and outreach to schools and the community. We also employ people with developmental disabilities through Community Living BC's Supported Work program. Click to download RMRS Overview 2012, an overview of the services RMRS provides.
In 2012, we are celebrating our 40th Anniversary with the slogan "Recycling: The Next Generation!"
"Recycling: The Next Generation!" refers to:
How much RMRS has changed since our humble beginnings. From volunteers using an old cube van to collect newspapers in a backyard shed to today's fleet of recycling trucks, custom-designed recycling depot, and partnership with the District of Maple Ridge, we've come a very long way.

How attitudes about recycling and the environment have developed. While our founders were considered "hippies" by some, the eco-wave they helped create has turned recycling and caring for the environment into a mainstream attitude.

How recycling processes are changing due to the development of Extended Producer Responsibility (EPR) programs, which shift the responsibility of recycling materials from municipalities and taxpayers onto the manufacturers, retailers, and consumers of the product through eco-fees and stewardship organizations.
The new age of Social Media, which helps build & connect communities, and is a great resource for promoting and sharing ideas. Check out RMRS's Facebook page, Twitter account, and YouTube Channel to see how we're connecting to local residents & businesses and environmental organizations around the globe.
RMRS Mission Statement: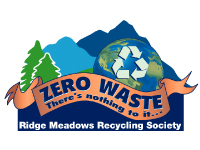 Ridge Meadows Recycling Society is a community-based, non-profit organization that advocates zero waste, operates responsible waste reduction services and provides environmental education. We employ people with developmental disabilities to work on site, thereby assisting their integration into the community.
Goals:
To empower the residents of Maple Ridge to become interdependent stewards of the environment.
To operate an organization that offers as full a range of integrated, environmentally sound waste reduction services as possible.