Quick Links
Maple Ridge Garbage Transfer Station
At the Maple Ridge Garbage Transfer Station, residents throw their garbage into a large trailer.
Trucks then haul the garbage to burn in an incinerator, or to bury it in either the Cache Creek Landfill or the Vancouver Landfill.
The Transfer Station is located next to the Maple Ridge Recycling Depot at 10092 – 236th Street, Maple Ridge.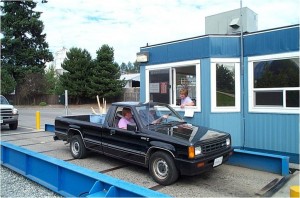 The Transfer Station is owned by Metro Vancouver and operated by SSG Holdings Ltd (604-466-9277). It is open the same hours as the Recycling Depot:
Monday: 8am – 5pm
Tuesday & Wednesday: 8am – 7pm
Thursday – Sunday: 8am – 5pm

Closed all Statutory Holidays
2015 Tipping Fees:

*Note: Garbage tipping fees are scheduled to increase starting April 6, 2015. Green waste fees will not be affected. More info at http://www.metrovancouver.org/services/solid-waste/bylaws-regulations/tipping-fee/Pages/default.aspx  
Garbage: $113 per tonne – minimum charge $10 per load
Green Waste and Clean Woodwaste: $66 per tonne - minimum $6 per load
Mattresses: $15 per mattress - maximum 4 mattresses, includes futons & box springs
Gypsum (drywall): $150 per tonne - minimum charge $15 per load, 1/2 tonne maximum. Large loads can also be taken to New West Gypsum, 38 Vulcan Street, New Westminster, 604-520-6647
NOTE: Only drywall with a manufacture date of AFTER 1990 is accepted. 
There are many bans in place on things that cannot be disposed of at the Transfer Station.
In 2015, a ban on Organic Waste (food scraps & yard trimmings) in Metro Vancouver waste facilities takes effect. Learn more about how this affects Maple Ridge residents.
*To reduce your green waste, find out more about the District of Maple Ridge's annual Spring & Fall Chipping Programs and backyard solutions to kitchen scraps and yard waste, such as Composters and Solar Cone Food Digesters.