Large Item Pickup Service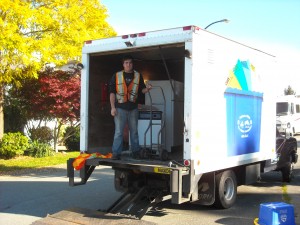 Ridge Meadows Recycling provides a fee-for-pickup service and will pick up any large, recyclable item(s) within the Maple Ridge/Pitt Meadows area.
The pick up service includes anything that can be recycled at the Maple Ridge Recycling Depot such as fridges*, freezers*, stoves, furnaces, hot water tanks, washers, dryers, TVs, computers, dishwashers, and other large appliances or electronics. The cost for pick up is $40.43 (tax included). *Note: there is an additional $10 freon-removal charge for refrigerated units. Download the RMRS A to Z List, listing what is accepted for recycling at the Depot. Note: we do not pick up any corrosive, flammable, explosive, or otherwise hazardous materials. 
To request a pick up or quote, call 604-463-5545 or fill out the form below.
*Please note that the Maple Ridge Recycling Depot is an end-of-life recycling facility – if something is still usable, please try selling it or giving it away to charity first!