Large Item Pickup Service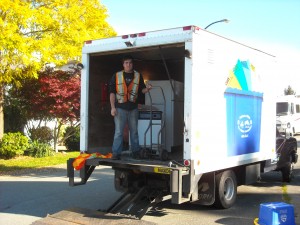 Ridge Meadows Recycling provides a fee-for-pickup service and will pick up any large, recyclable item within the Maple Ridge/Pitt Meadows area.
The pick up service includes anything that can be recycled at the Maple Ridge Recycling Depot such as fridges, freezers, stoves, furnaces, hot water tanks, washers, dryers, dishwashers, and other large appliances. We also accept all electronics – eg. broken TVs & computers – and car batteries. Click to download The A to Z of things to bring – January, 2013, listing what is accepted for recycling at the Depot.
To request a pick up or quote, call 604-463-5545 or fill out the form below.
*Please note that the Maple Ridge Recycling Depot is an end-of-life recycling facility – if something is still usable, please try selling it or giving it away to charity first!