Business & Commercial Recycling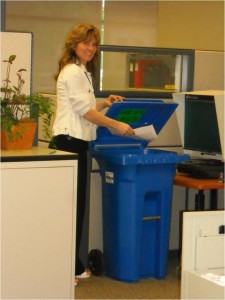 Ridge Meadows Recycling offers a variety of recycling services for offices, restaurants, small businesses, and more. Download the Commercial Recycling Flyer.
Recycling with RMRS allows you to specify the type of material you have to recycle and offers the flexibility to choose your pick-up frequency and the size and number of recycling totes you use. There are no volume weight limits and the contract can be adjusted at any time without penalty or extra charge.



We offer a complete recycling pickup program and can accept almost any item that can be recycled at the Maple Ridge Recycling Depot, including:
Cardboard
PlasticPackaging
Office Paper
Magazines
Newspaper
Milk Cartons &  Tetra-packs
Tin & Aluminum
Catalogues
Light Bulbs, Tubes, & Fixtures
Batteries & Cell Phones
*Click to download the RMRS A to Z List, a list of items accepted at the Recycling Depot.
We provide hands-on educational workshops, literature, and training for you and your employees to set up, promote, and follow your company's personalized recycling program and offer assistance with concerns that arise. We also offer workshops on Moving Toward Zero Waste & Creating a Green Office. Contact Dan Mikolay, our Environmental Educator, for more information at daniel@rmrecycling.org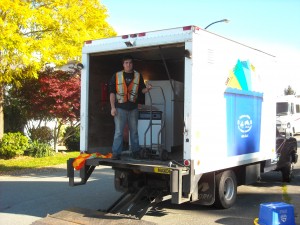 Do you have old electronics (computers, monitors, photocopiers, etc.) or an old appliance (fridge, dishwasher) taking up space at your office? Learn more about our Large Item Pickup Service!
Our customized service fits into any budget and meets your company's individual needs. Call 604-463-5545 or fill out the form below to learn how you can lower your bottom line and avoid costly fees by diverting recyclables from your garbage collection bins.
Request a Recycling Pickup for Your Business
If you would like to request recycling pickup service for you business or more information about our office recycling program, please fill out the form below