Contact Us
The Recycling Depot is open 7 days a week:
Monday – Saturday 8am – 6pm
Sundays & Holidays 9am – 5pm
The Depot is located at 10092 – 236th Street, Maple Ridge and is OPEN on all statutory holidays except Christmas Day & New Year's Day.
*Note: We are currently on our Summer Hours schedule at the Depot – open at 8:00am and closing at 6:00pm Monday to Saturday. Sundays and holidays we are open from 9:00am – 5:00pm. Winter Hours (closing an hour earlier at 5:00pm Mon-Sat) begin on October 1, 2023.
Map of  Maple Ridge Recycling Depot
The Maple Ridge Recycling Depot is located just off River Road in the Albion Industrial Park in South Maple Ridge. If you remember the old Albion Ferry terminal, we are just west of it!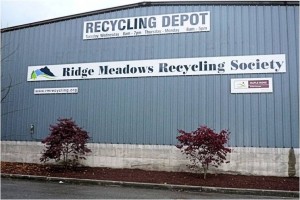 Maple Ridge Recycling Depot
10092 – 236th Street, Maple Ridge, BC V2W 1B7 (just off River Road in the Albion Industrial Park)
* Mailing Address:
Ridge Meadows Recycling Society
Box 283,
Maple Ridge, BC
V2X 7G2
Phone: 604-463-5545, Fax: 604-467-6100