Maple Ridge Garbage Transfer Station
NOTE: The Maple Ridge Transfer Station is experiencing longer than usual wait times due to increased traffic volumes and recycling depot site restrictions to facilitate physical distancing. To help plan your trip and minimize wait times, you can:
Thank you for your patience.
Reminder: Mixed material loads will be charged at the rate for the highest cost material. For example, a load with both garbage and green waste will be charged at the garbage rate. Minimum fees apply.
The Maple Ridge Garbage Transfer Station is located next to the Maple Ridge Recycling Depot at 10092 – 236th Street, Maple Ridge. It is owned by Metro Vancouver.
The Transfer Station is open the same hours as the Recycling Depot:
Open 7 days a week
Monday – Saturday: 8:00am – 5:00pm        Sundays & holidays: 9:00am – 5:00pm
The Transfer Station & the Recycling Depot are OPEN on ALL statutory holidays except for New Year's Day (January 1) and Christmas Day (December 25).
For information about Metro Vancouver's Transfer Stations, please call 604-681-5600.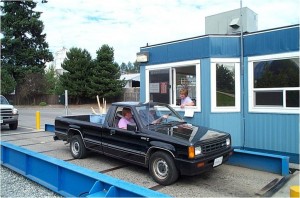 At the Maple Ridge Garbage Transfer Station, residents unload their garbage into a large trailer.
Trucks then haul the garbage to burn in Burnaby's incinerator, or to bury it in the Vancouver Landfill.
METRO VANCOUVER UPDATES:
Starting July 2018, surcharges of 100% of the tipping fee will apply to any garbage loads containing over 20% expanded polystyrene packaging (aka. "Styrofoam"). Disposal ban does not apply to food/beverage containers, packing peanuts, or expanded polystyrene that is painted, soiled, or treated. Instead of being disposed, expanded polystyrene can be brought to the Maple Ridge Recycling Depot to be reused by local manufacturing companies or recycled into new products.
Starting January 1, 2018, tipping fees for garbage will increase by 3% compared to 2017. There will also be a new per tonne fee for Used Gypsum, applicable at Langley and Maple Ridge Transfer Stations only.
Starting September 1, 2017, the fee for green waste, clean wood and food waste will change to $95 per tonne with a $10 minimum fee. The new fee will be in effect at North Shore, Coquitlam, Surrey, Langley and Maple Ridge Transfer Stations. (Transfer stations accept only small amounts of food waste, up to 10L.)
The fee change is necessary due to fee increases at private composting facilities where the material is sent for processing.
2020 Tipping Fees:

*More info at http://www.metrovancouver.org/services/solid-waste/bylaws-regulations/tipping-fee/Pages/default.aspx  
Questions? Please call 604-432-6200 or email solidwasteoperations@metrovancouver.org
There are many bans in place on recyclable items and other things that cannot be disposed of at the Transfer Station:
Banned Recyclable Materials
These materials are banned from disposal in this region to drive up the regional recycling rate. There are reasonably accessible recycling options region-wide.
Banned Hazardous and Operational Impact Materials
These materials are hazardous to the environment or workers, or have high operational impacts. There are safe disposal options.
New bans starting in 2018: 
–Toxic plants, railroad ties, and creosote treated wood: Loads of toxic plants (Devil's Club, Giant Hogweed and Spurge Laurel) are not permitted at Metro Vancouver transfer stations. They may only be disposed at the Waste-to-Energy Facility if authorized prior to delivery. Call 604-451-6185 or email weighscalesystem@metrovancouver.org
–Frosted trees: Snow-flocked or frosted trees are not permitted as Green Waste at Metro Vancouver Transfer Stations as the snow-like flocculant on the trees cannot be properly composted at organics processing facilities.