Our History
In 2022, Ridge Meadows Recycling Celebrated 50 Years of Recycling Evolution. We look forward to serving our community for another 50 years!


1970s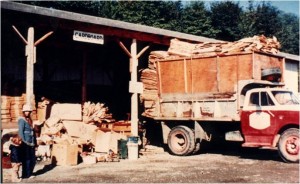 In 1970, Bob Cordoni, a member of the local SPEC (Society for the Promotion of Environmental Conservation) group, went to the very first Earth Day Celebrations in Victoria. He returned from that pivotal gathering excited about a new idea – recycling. Their enthusiasm spread, and a group of SPEC members formed a special committee to explore recycling locally.
In 1972, recycling began in Maple Ridge and Pitt Meadows. Far ahead of many other municipalities, these committed volunteers, including Beryl Cunningham, Candace Gordon and Julie & Dave Koehn, forged partnerships with local manufacturers, developed a system to sort and ship recycled materials, promoted the idea of recycling to local residents, and began collecting newspaper, glass, and tin cans in a backyard shed in Hammond.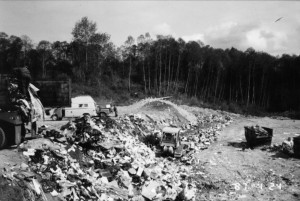 At that time, most people just threw everything in the garbage. SPEC members worked with the District of Maple Ridge (now City of Maple Ridge) to acquire space at the Cottonwood Landfill to set up the first Maple Ridge Recycling Depot in 1974. Locating the depot next to the landfill was strategic – it was a constant reminder that not everything needed to be thrown away, and it helped educate people about what items were recyclable.
In 1976, the depot had grown to the point where volunteers could no longer do it all themselves, and our first part-time employee was hired.
1980s
In 1980, building on our successes, multi-material curbside collection began in Maple Ridge & Pitt Meadows. In 1981, the committee members realized that the recycling movement had outgrown SPEC and voted to create a separate organization, the Ridge Meadows Recycling Society.
Ridge Meadows Recycling Society continued to be ahead of the curve and gained notoriety as a leader in recycling. In 1987, the GVRD (Greater Vancouver Regional District, now Metro Vancouver) awarded us the first of three awards for significant contributions to recycling.
1990s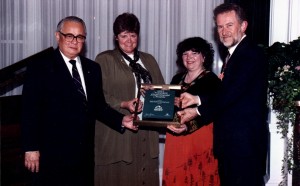 In 1990, the current Recycling Depot was built at 10092 – 236th Street, Maple Ridge, just off River Road in the Albion Industrial Park. Custom-designed for collection, public drop-off, office space, and intermediate processing, the new depot enabled the curbside recycling blue box program to start in 1992 and won us the BC Minister's Environmental Award in 1993. This was also the year Ridge Meadows Recycling Society (RMRS) distributed its first 1500 compost bins to provide a backyard solution to diverting organic materials from the landfill.
Our work with local businesses continued to grow and we expanded our Business Recycling program in 1996, the same year the paint recycling program was launched.
In 1997, we began a formal partnership with the District of Maple Ridge and under this partnership, our Apartment Recycling program began in 1999.
Any new item that is added to our "recyclable" list must have a manufacturer willing to accept our product. By 2000, the plastics industry had reached a point where it was viable to add plastics recycling to our blue box pickup and depot programs. Electronics such as TVs & computers were added to our depot recycling program in 2007 and milk cartons were added to both our blue box pickup and depot programs in 2008.
2000s
In 2002 we celebrated our 30th Anniversary with an Open House at the Recycling Depot. A year earlier we started integrating the idea of moving "Toward Zero Waste" and in 2003, found out through a survey that a whopping 96% of residents recycle! Throughout the years, our community involvement included participating at various events and in 2005, we lead the organization of Earth Day celebrations at the ACT.
Our tonnage went up by 9% in 2004 when we expanded our blue box pickup route eastward to 256th Street and in 2009, we completely re-designed our route maps and pickup schedules to make them more streamlined and easier to communicate to residents. To see a map of curbside recycling pickup days, click here.
2010s
In 2012, we celebrated our 40th Anniversary with a HUGE Earth Day party and our search for the top 40 under 40 environmental leaders of the future. Since 2012, we have been the lead event coordinator for the Celebrate Earth Day in Maple Ridge Festival.
As we take on more items for recycling through the expansion of EPR (Extended Producer Responsibility) programs, and manufacturers develop new methods and innovations for recycling products, communicating what is and isn't recyclable continues to be a challenge. Through EPR programs, we now accept all electronics and accessories, batteries, CFL lightbulbs, oil and oil containers, CD & DVD discs & cases, paint and paint containers, and more. Click to download the RMRS A to Z List, a list of items accepted at the Maple Ridge Recycling Depot.
One of the biggest shifts in our recycling progam came in May, 2014, when the responsibility for recycling residential Printed Paper & Packaging shifted to industry. Recycle BC (previously MMBC) was formed to fulfill the provincial's Recycling Regulation. Currently, GFL Environmental coordinates the collection, processing, & shipping of materials that fall under this category. In partnership with the City of Maple Ridge, Ridge Meadows Recycling picks up curbside recycling at houses and apartments, and collect these materials at the Maple Ridge Recycling Depot.
2018 was an exciting year, with the addition of Textiles Recycling and a new Flexible Plastic Packaging program at the Maple Ridge Recycling Depot, launching our online recycling sorting game, Recycle it Right, AND launching Maple Ridge Repair Cafes!!
2020s
Like everyone else, in 2020 we had to adapt to safety measures during the COVID-19 pandemic. This included cancelling all events and implementing new protocols at the Maple Ridge Recycling Depot. However, we were able to safely hold a Household Hazardous Waste Drop-off day for residents in partnership with the City of Maple Ridge and Terrapure.
On October 28, 2022, we held a gala dinner & dance to celebrate our 50th Anniversary!
We look forward to seeing what the next 50 years holds and continuing to adapt and change with the evolution of recycling.