Apartment Recycling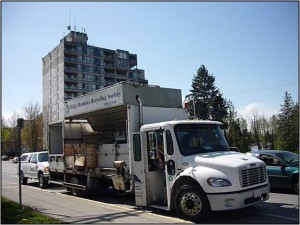 In partnership with the City of Maple Ridge and Recycle BC, each apartment complex in Maple Ridge has its own unique system of large, wheeled totes located close to the garbage disposal area for apartment residents to sort their recyclables into.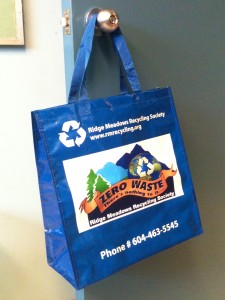 Apartment residents are provided with two reusable, vinyl recycling bags to collect and store their recycling inside their apartment. When the bag is full, they bring it to the recycling area and sort it into the appropriately labeled tote.
The following items are collected in our Apartment Recycling program: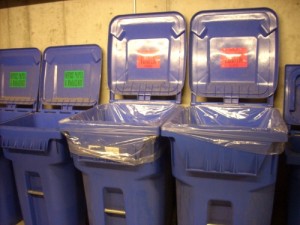 Cans & Cartons

all tin & aluminum cans, foil, and trays
soup cartons, ice-cream cartons
plastic-lined paper coffee cups & bowls
household aerosol sprays (NO PAINT)

Plastic Packaging – Plastic Containers, Plastic Bags & Plastic Film 

plastic cups, jars, containers, & lids used in packaging
please collect ALL plastic bags & film together in a plastic bag

ALL Paper & Cardboard

office paper & magazines
newspaper
cardboard

Glass Bottles & Jars

glass bottles & glass jars ONLY (broken ok)
NO window glass, ceramic, or drinking glasses
please put plastic lids in the Plastics bin & metal lids in the Cans & Cartons bin
Click to download the Apartment Recycling Sort Poster showing which tote to sort your recyclables into. Contact your apartment/building manager or strata representative for specific information about your building's recycling program or to get replacement bags.

We offer hands-on educational workshops to all apartment buildings to answer any questions and further explain what can and cannot be recycled as well as any recent changes that have been made. To schedule a free workshop for your building, call Daniel Mikolay at 604-603-0166 or click here.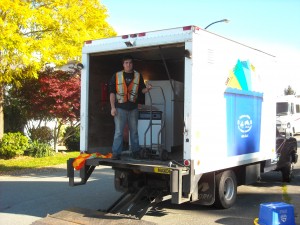 Many items that are not picked up at apartments can be brought to the Maple Ridge Recycling Depot to be recycled, including all appliances & electronics, cell phones & batteries, oil, pesticides, & paint. Click to download the RMRS A to Z List, a list of what is accepted at the Recycling Depot. To arrange special pick up of an appliance or other large item, call 604-463-5545 or click here.
Looking for information on how to start a recycling program for Food Scraps and Organics at your building? Metro Vancouver has lots of resources here!