Recycling Pickup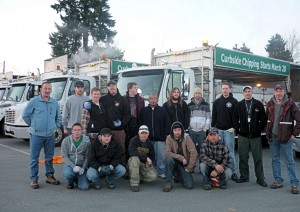 Ridge Meadows Recycling Society (RMRS) provides a number of recycling programs to residents & businesses in Maple Ridge and Pitt Meadows.
Click on any title below to learn more.
Apartment residents in Maple Ridge & Pitt Meadows are provided with special vinyl bags designed to hang on a doorknob and collect recyclables. When full, residents bring these bags to their building's recycling room or area and sort them into the appropriate totes. Apartment pickup happens once a week, with no pickup on statutory holidays. New buildings in Maple Ridge must provide an area for recycling collection! Read More...
Businesses in Maple Ridge and Pitt Meadows can lower their bottom line and avoid costly fines by diverting recyclables from their garbage. Ridge Meadows Recycling works with businesses to set up a recycling program designed to meet their specific needs, from materials collected to frequency of pickup. Our contracts are flexible and can be adjusted at any time with no penalty or extra charge. Call 604-463-5545 for your free assessment today! Read More...
We deliver blue boxes & bags every Friday. If you are not home, we will leave them by your front door. You can also order new ones by phoning us at 604-463-5545 or pick them up at the Maple Ridge Recycling Depot, just off River Road in the Albion Industrial Park. Read More...
Ridge Meadows Recycling picks up recycling from all schools in School District 42 on a weekly basis and offers environmental workshops to schools with topics ranging from recycling and reuse to worm composting and water conservation. Read More...
In partnership with the District of Maple Ridge, this unique, homegrown, weekly curbside pickup service combines the best of door-to-door efficiency with sound environmental principals & practices. If you are new to our community, welcome! We do things a little differently here than in other municipalities, hopefully this website will help you understand why. Read More...
Ridge Meadows Recycling provides a fee-for-pickup service and will pick up any large, recyclable item within the Maple Ridge/Pitt Meadows area. To schedule a pickup or get a quote, call the Recycling Depot at 604-463-5545. Read More...