Garbage Disposal in Maple Ridge
As you may be aware, the system we use to deal with household waste here in Maple Ridge is unique in Metro Vancouver – and it's all because of us!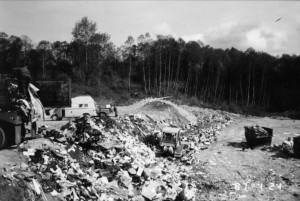 In
1972
, before most municipalities started recycling,
Ridge Meadows Recycling Society
began working with residents to recycle their
newspaper
,
cardboard
,
glass
, and
metals
. As the movement grew, so did the Society. We now have a partnership with the
District of Maple Ridge
and are responsible for the weekly residential
blue box curbside pickup program
. We also pick up recycling at
schools
,
apartments
, &
businesses
, and operate a public
collection & processing depot
, where you can drop off all recyclables collected curbside and much, much more. Click to download 
The A to Z of things to bring – July, 2012
, a list of items accepted at the
Maple Ridge Recycling Depot
. From the beginning, we wanted to be clear about the distinction between
recycling
(a reusable commodity) and
garbage
(costs $ to bury or burn). With a few exceptions (eg. litter pickup as part of our
Supported Work Program
), we focus on recycling and leave the garbage to other companies & organizations!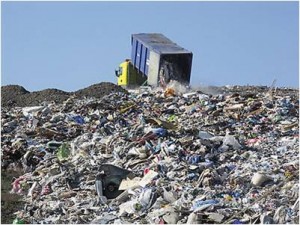 Garbage facilities in the Lower Mainland are part of Metro Vancouver's
Solid Waste Management Plan
and include six
transfer stations
, where people and garbage companies can drop off their garbage. Trucks then haul the garbage to an
incinerator in Burnaby
, the
Cache Creek Landfill
, or the
Vancouver Landfill
.
Focused on
reducing the amount of items ending up being burned or buried
, RMRS and the
District of Maple Ridge
have developed a homegrown solution over the years that now includes:
Weekly curbside blue-box recycling pickup for 94% of Maple Ridge residents with no limit on the amount of recycling they set out for pickup. We continue to expand our Blue Box Pickup Route as density levels in rural areas make them cost-effective
A multi-material recycling depot with public drop-off area located at the entrance to the Maple Ridge Transfer Station
Residents are responsible for their own garbage disposal, either bringing it to the transfer station or by contracting with a private hauler
This system is designed to make consumers more aware of the cost of garbage and the value of recycling, and encourages them to make choices when purchasing products to produce less waste and recycle as much as possible.

Metro Vancouver now charges a minimum $50 surcharge, or up to 50% of the tipping fee, for garbage loads containing recyclable items. Check out Metro Vancouver's list of items banned from the landfill. Because of our unique system, Maple Ridge residents benefit in a number of ways.
it gives residents the opportunity to save money by relying on a "user pay" system – the less waste you produce, the less you pay for its disposal.
 by locating the Maple Ridge Recycling Depot on the way to the transfer station, it is very convenient for residents taking a load of garbage in to drop off all recyclables first and lower their tipping fees.
 if residents choose to arrange curbside garbage pickup with a private company, they are aware of the costs associated with garbage, have a choice of service providers and frequency of pickup, and notice when garbage disposal costs rise due to fines incurred by banned items in the garbage.

If you are unclear whether an item is recyclable or not, call us at 604-463-5545, call the Recycling Council of BC's Recycling Hotline at 604-732-9253 Monday – Friday 9am-4pm, or check out their online Recyclepedia.

*
RCBC
 & 
SPEC
 have developed a 
Recyclepedia Smart Phone App
 that is now available to download!